9th June 2023
Sanctuary Scotland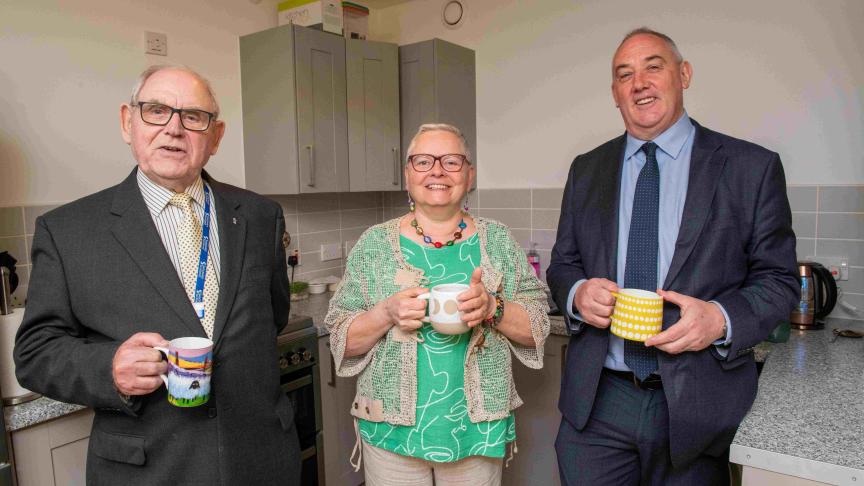 Housing minister Paul McLennan has visited Cumbernauld to formally mark the replacement of the town's 12 tower blocks with 588 high quality new homes.
We worked with the Scottish Government and North Lanarkshire Council to demolish a dozen high-rises and regenerate four sites across Seafar and Kildrum.
The striking final phase of the project in Burns Road, Cumbernauld, is now home to more than 200 residents. The £24 million development provides 131 affordable flats, plus an office for our local staff team.
Peter Martin, Sanctuary's Group Managing Director of Development, has overseen the whole high-rise regeneration project from start to finish.
Peter said: "Sanctuary's transformation of the sites of Cumbernauld's old tower blocks with homes fit for modern living is a source of great pride.
"When we regenerate areas we do our best to bring the local community with us. The high quality new homes we build made it easier to get Cumbernauld residents on board – in a nutshell, people liked what they saw.
"Our Burns Road development marks the end of this regeneration project but starts a new chapter in the lives of the 200-plus people living here.
"This, and the 457 other new 'regeneration' homes we've built across Cumbernauld, are a fitting tribute to the successful partnership approach of Sanctuary, the Scottish Government and North Lanarkshire Council."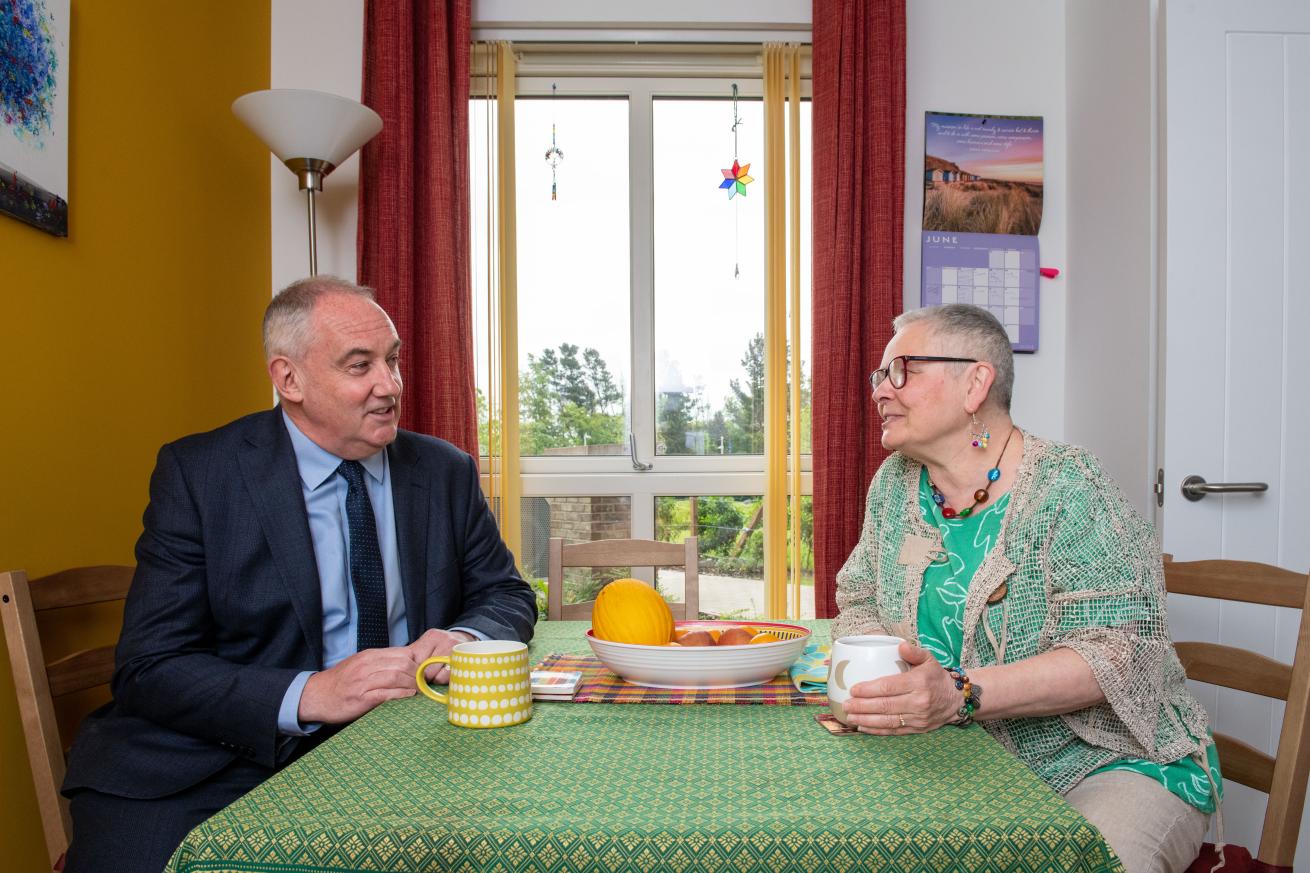 Frances Park moved to the Burns Road development in August 2022.
Frances, who runs a volunteer-led community hub in the town, said: "Living in Burns Road is like being in a totally different world, me and my husband love it. The move has given us a wonderful new start at this time of our life.
"Sanctuary has done really well developing the surrounding area. There's a new play park for children and the restoration of green spaces has given us a beautiful view."
The Scottish Government paid £68.2 million towards the regeneration project's total cost of just over £100 million.
Housing Minister Paul McLennan said: "We want everyone to have a safe, warm affordable home that meets their needs. Taking these tower blocks and creating new vibrant communities demonstrates what partnership working can achieve and I thank all of those involved.
"Supported by more than £12 million Scottish Government funding, these 131 affordable homes at Burns Road include 121 homes for social rent and 10 shared equity properties, contributing to our commitment of 110,000 affordable homes by 2032 of which at least 70% will be for social rent."
Pamela Humphries, Chief Officer of Place with North Lanarkshire Council, said: "The completion of the Burns Road development marks the hugely successful culmination of this high-rise regeneration project in Cumbernauld.
"Through the outstanding efforts of Sanctuary Scotland, North Lanarkshire Council and the Scottish Government, we have helped transform the town's skyline and provided much needed high-quality homes fit for modern living.
"This project is testament to what can be achieved through partnership working and community engagement."