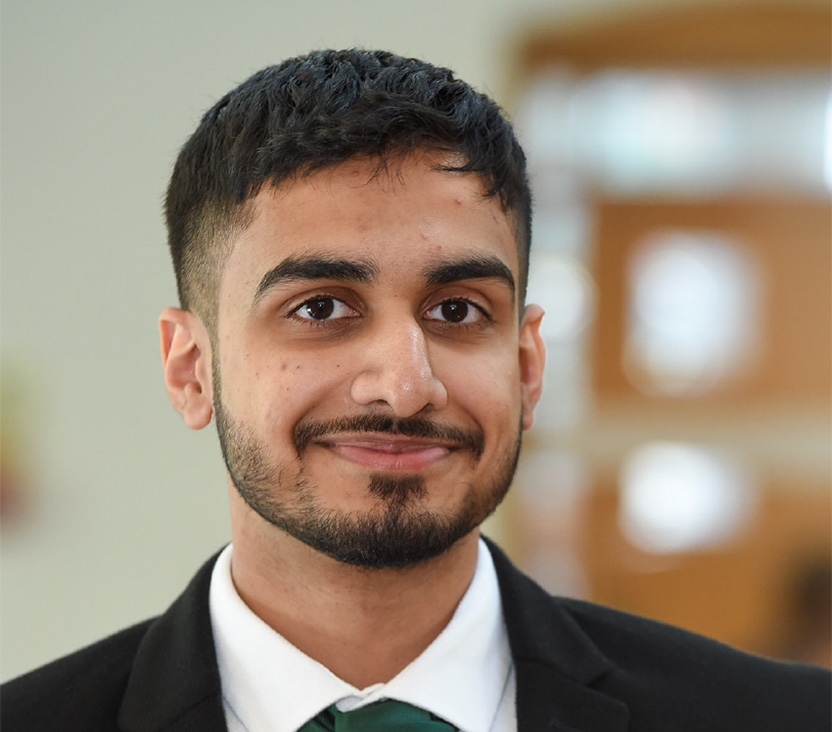 Yusuf Raja – Graduate Case Study
Yusuf Raja – Graduate Case Study
Yusuf graduated from Warwick Business School in 2019 and looked for a graduate scheme that allowed him to develop his business acumen whilst also providing growth opportunities and mentorship. Sanctuary's stood out in terms of the structure and support offered, and it was clear from previous graduates within the scheme, that if he wanted to find a place that would encourage advancement and progress, Sanctuary was that place.
"Finding a company where my efforts would have real world impact is very important to me, and Sanctuary's strong commitment to its customers and strong social purpose meant I knew my work would have a strong positive impact in communities."
Yusuf has been at Sanctuary for over a year now and has completed two placements; one in technology and another as a business analyst on the OneProperty project, which will transform how we serve our customers.
"My first placement was aimed around analysing and delivering projects surrounding digital exclusion and its impact on our customers. Addressing this issue was a challenging but exciting task. Throughout the six-month period I was provided with support from my line manager and given the autonomy to go out and do my research to deliver the best possible solutions for our customers. I ended up delivering a cyber security project to residents within our care homes, to educate and utilise software to combat malicious online attacks – a project which is ongoing and expanding under my supervision.
"I also collaborated with the social value team to engage in multiple projects to help increase our scope and understanding of digital exclusion. I was also actively encouraged to involve myself in exciting opportunities, this led to me entering a globally known competition (Samsung SFT), where I reached the semi-finals with my ideas and solution around digital exclusion and gained two certified qualifications on the side."
Yusuf's first placement gave him an amazing start in his professional career, giving him the opportunity to grow and take lead on projects with strong social purpose so early on. This led to him joining the biggest project in Sanctuary for his second placement.
"In my second placement I was a part of the OneProperty programme, perhaps one of the biggest and most complex organisational changes Sanctuary has ever experienced. Being a part of the project team gave me valuable project management experience and helped progress my professional development.
"My line manager was amazing in trusting me with important work to carry out to assist the delivery of the project, providing me with continual support and opportunities to progress and expand my network. I helped to develop and communicate transformational changes to internal stakeholders and assist working groups to develop the transformational journey. Being a part of a project this big within the first year has increased my project management abilities and expanded my understanding of agile project management."
Yusuf is now in his third placement in the Growth and Partnerships team, where the focus is on delivering Sanctuary's ambitious strategy to expand its services and geographies. The team is selective about growth opportunities, ensuring they deliver value for money, support organisational sustainability, and benefit the residents of both organisations.
"I am super excited to be joining the Growths and Partnerships team – I feel it's where my interests and future career interests lie, and where I can apply my business acumen from my degree to really help achieve the targets within this team."
Yusuf is extremely grateful to the graduate programme and the benefits it has provided him so far in his career. "Being able to have a network of graduates within the company who are always happy to help, has been very beneficial. I've found Sanctuary's graduate scheme to be one that is really focused on making me the best version of myself as possible, whilst giving me opportunities to progress and develop my professional qualifications and skill sets.
"If you want to work in a place which has an inclusive and supportive culture and wants you to excel and grow – I'd definitely apply to the Sanctuary graduate programme!"