Ellerslie Road, Glasgow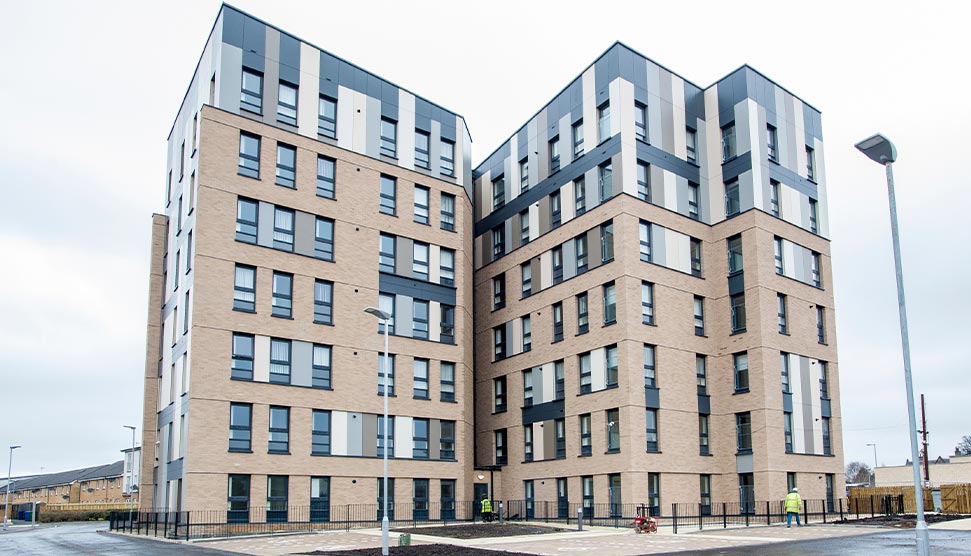 Ellerslie Road sits on the banks of the River Clyde and is well situated for local shopping in Yoker. The development enjoys excellent transport facilities including a bus and train service which gives access to the city centre and surrounding areas.
The development is comprised of 42 flats offering a range of one, two and three bedroom properties for mid-market rent. Four of the flats provide wheelchair accessibility access.
Rent and deposits
One-bedroom flats - £454.25 maximum monthly rent, £460.00 deposit (plus £100 per pet up to £200)
Two-bedroom flats (some with wheelchair access) - £572.19 maximum monthly rent, £580.00 deposit (plus £100 per pet up to £200)
Three-bedroom flats -  £672.35 maximum monthly rent, £680.00 deposit (plus £100 per pet up to £200) 
Applications are now being accepted for this development. Please phone 0800 131 3348 to enquire today.
What is Mid-Market Rent?
Mid-Market Rent (MMR) is suitable for people on incomes that are not quite enough to afford homeownership, or that only wish to rent for a limited period of time.
Who is eligible?
To be eligible, applicants should be aged 16 years and above and be employed or have a formal offer of employment in the area. Our allocation policy allows those applying through Mid-Market Rent to have one additional bedroom above their current housing need.
To apply, please download and complete the Mid-Market Rent application form (PDF 260KB) and email it back to us at Glasgow@Sanctuary.co.uk. You can also phone for information and advice on 0800 131 3348.
Alternative format
Our documents can be translated into other languages, large print and braille, or recorded on to audio CD. Please contact us using one of the options listed above for more information.