5th September 2023
Sanctuary Scotland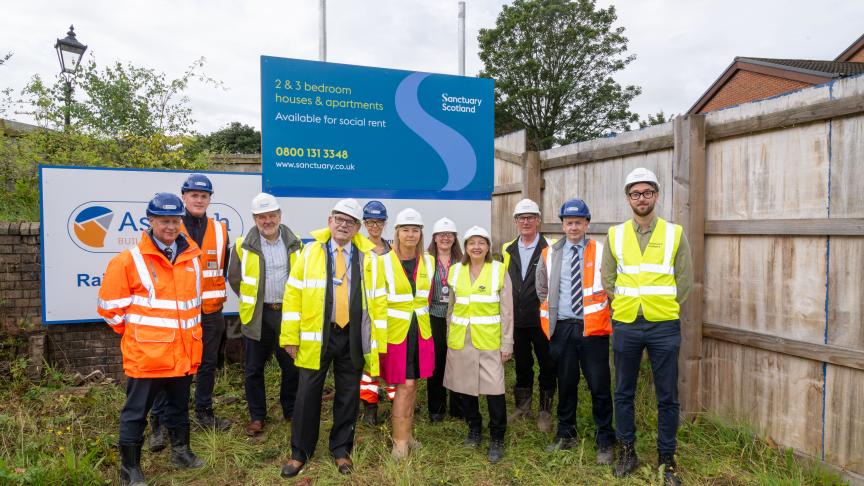 Work to regenerate and breathe new life into Paisley's historic West End is officially underway. 
Sanctuary Scotland is working with Renfrewshire Council and the Scottish Government to transform the once vibrant area with high-quality new homes for local people.
An official groundbreaking ceremony was held to mark the start of the first phase of the work, which will deliver 35 new homes.
The homes are being built on the site of former tenements and University of West Scotland student accommodation in Sutherland Street and will offer a mix of two and three-bedroom houses and apartments, all available for social rent.
All of the homes will benefit from off-street parking and environmental features such as solar panels and modern insulation, while larger properties will offer private gardens. Several adaptable apartments are being included, along with a lift in one of the blocks to ensure accessibility.
The project is supported by a grant of £4.8m from the Scottish Government and will take around 16 months to complete, with the first homes expected to be ready by late autumn 2024.
The wider regeneration plans for Paisley's West End aim to address the high number of vacant and derelict units in a once vibrant area of the town.
The area's history links closely to Paisley's town centre, with the heritage of the Sutherland Street site providing an opportunity to bring a thriving new community to life through the delivery of new high-quality housing.
Alex Clark, Vice Chair of Sanctuary Scotland, said: "The start of work at Sutherland Street marks an exciting first phase of new build homes and demonstrates our commitment to the redevelopment of Paisley's West End.
"There has been a lot of work from all partners involved and it's wonderful to see these ambitious plans start coming to fruition."
Housing Minister Paul McLennan commented: "Everyone deserves to live in a warm, safe and affordable home and Sanctuary's ambitious regeneration of Paisley's West End will help us to achieve this. The partnership between Sanctuary and Renfrewshire Council, supported by £4.8 million of Scottish Government funding, will deliver 35 affordable new homes for social rent in Sutherland Street, Paisley.
"This first phase of Paisley's West End regeneration means that more households will live in a home that meets their needs. Partnerships like this will help us to deliver at least 110,000 affordable homes across Scotland by 2032, with 70% for social rent."
Cllr Marie McGurk, convener of Renfrewshire Council's communities and housing policy board, said: "I'm delighted to see construction now getting underway on these new homes being delivered by Sanctuary Scotland.
"This is the first phase of a wider development which will transform Paisley's West End, with a future phase to include the replacement of old run-down tenements, including those on the east side of Well Street, with modern homes. We continue to work behind the scenes to arrange the acquisition of remaining privately-owned properties to allow that next phase to proceed.
"These new affordable homes will complement the council's own various new-build developments and contribute to our wider target of 1,000 new affordable homes to be built over the next five years between ourselves and our housing association partners."
The homes at Sutherland Street are being delivered by Sanctuary's construction partner, Ashleigh Building.